1 Minute Shooting Competition
This basketball drill is a great basketball shooting drill that focuses on shooting under pressure with no opponent.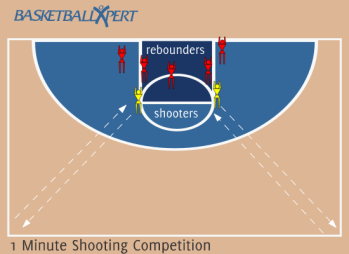 Setup
Pair up 2 shooters of equal shooting ability to compete against each other.
Each shooter should start at the elbow with a ball each.
The remaining players should be under the basket to rebound for the shooters.

Instructions
Each competition will last 1 minute.
Shooters shoot from behind the elbow.
After the shoot, the shooters sprint to the sideline at half court and back to the elbow.
Once the player gets back to the elbow, a rebounder passes the shooter their ball and the competition continues.
If a shot is made, the shooter can continue shooting at that spot.
As soon as a shot is missed, the shooter must sprint to the sideline at half court and back to the shooting spot.
The player that makes the most baskets after 1 minute wins.
The losing player does a "lap of shame" around the gym.

Variations
Change the shooting spot.
Coaching Points
Catch clean step and shoot
Good shooting technique
Good footwork & speed while sprinting
Good body control throughout the competition
Don't rush the shot.
View Count: 18568
Basketball Drills
Browse our fun and free youth basketball drills for kids to get ideas for your next basketball practice.
Browse Basketball Drills
Basketball Drills by Age
Basketball Printable Resources