The Spider Dribble
The objective of the spider dribble is to improve players dribbling skills with both hands around all parts of the body.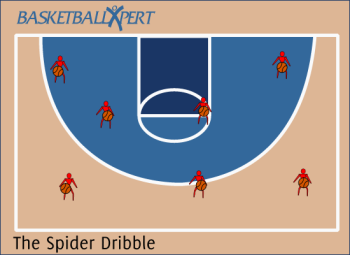 Setup
Have your players spread out on the court with some space between each of the players.

Each player needs is a basketball.
Instructions
Instruct the players to start by spreading their legs and dribble the basketball with their right hand then pass it to the left hand.

Dribble the ball with their left hand and pass it between their legs to the right hand.

They should be making a figure eight through their legs and around their body.

Next, dribble the ball with their right hand around their right leg, behind their back and pass it forward through their legs to the left hand.

Then dribble left-handed around their left leg, behind their back and pass the ball forward through their legs to their right hand completing the figure eight motion.
This will help improve your ball handling and dribbling with both hands as well as helping you get comfortable putting the ball thru your legs.
Variations
Coaching Points
Start slowly at first and concentrate on doing it correctly rather than with speed.

As they players get better speed up and keep the ball lower to the ground.
View Count: 8947
Basketball Drills
Browse our fun and free youth basketball drills for kids to get ideas for your next basketball practice.
Browse Basketball Drills
Basketball Drills by Age
Basketball Printable Resources