The Basketball Three Man Weave Drill
The objective of the basketball weave drill is to improve passing, dribbling skills, and to improve communication between teammates.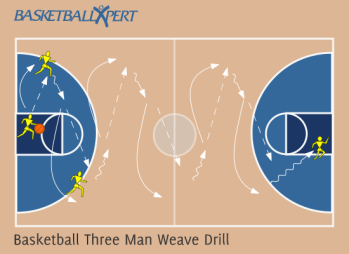 Setup
Start with 3 lines at the baseline.
Each group of 3 players with a ball for each group starting in the middle line under the basket.
Instructions
Player A begins with the ball in the middle.
Player A passes wide to Player B and then proceeds to run outside and behind where the pass went.
Player B receives the ball and moves inside on the dribble.
After a couple of dribble Player B passes cross court to Player C on the other side.
Player C receives the ball and moves inside on the dribble.
Meanwhile Player B follows their pass and goes behind Player C.
Player C goes inside on the dribble and passes cross court to Player A and the weave is complete.
Continue the progression down court finishing with a layup.
Variations
The drill can be done in many variations.
Make your lines wide and have the players dribble more before passing.
Make the lines tight and do it with no dribbling at all and the bal not touching the floor.
Make the passes be bounce passes only.
Finish with a jumpshot instead of layup.
Coaching Points
Focus on running in good lanes.
Make sure passes are crisp and on target.
Focus on player communication.
View Count: 7515
Basketball Drills
Browse our fun and free youth basketball drills for kids to get ideas for your next basketball practice.
Browse Basketball Drills
Basketball Drills by Age
Basketball Printable Resources