4v4 Round Robin
4v4 Round Robin is a game the kids love. This takes the place of an end of practice scrimmage or can be played on a free day. The 4v4 will give more space on the court allowing the players to be more creative and attacking in the offense. It will also encourage better 1v1 defense as there is less defensive help available.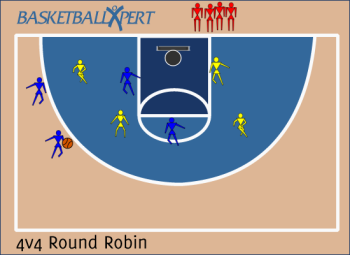 Setup
Break your squad into 3 teams of 4. If you have more than 12 players there will be subs. If you have less than 12 you can play the same drill 3v3. So 3 teams all in different colors.

You will use half the court in the game.
Instructions
Two teams will play while one sits out.

Each possession must be checked outside the 3 point line.

Once the ball is checked outside the 3 that team is "hot". Meaning only they can score.

If the defensive team gets a steal or rebound then they must take it outside the 3 to become "hot".

When a basket is scored the defensive team must inbound the ball on the baseline just like in a regular game. They must inbound the ball and get it outside the 3 point line and then they are "hot".

Two points for a 3-point shot and 1 point for a regular baskets. No free throws.

First team to 10 points wins the game.

The losing team rotates out and the team that is out rotates into the next game against the previous winner.
Variations
You can do this 3v3 or 4v4 or 5v5.

I find 4v4 is really good because it is close to the regular game but allows more space on the court for the players to hone both offensive and defensive skills.
Coaching Points
Focus on creativity and attacking the backet.

There will be more space available to the players.

Encourage movement and setting screens.

Defensively, players must play good 1v1 defense and communicate with their teammates.
View Count: 9910
Basketball Drills
Browse our fun and free youth basketball drills for kids to get ideas for your next basketball practice.
Browse Basketball Drills
Basketball Drills by Age
Basketball Printable Resources