The Backboard Touch
The objective is to increase jumping abilities, leg strength, explosiveness and fitness as well as proper jumping technique.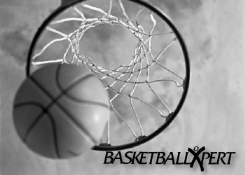 Setup
All you need is a backboard and yourself.
Instructions
Stand below the backboard, but out a step or so. Using a twofooted jump, explode upwards to touch the backboard with both hands. Land two footed on the toes and bend knees, absorb energy and gather yourself for next jump. Twofooted jump back up to touch the backboard again over and over until repetition target is reached.
Variations
Use the backboard on each side of the rim. Begin on right side. Jump and touch the backboard then shuffle across to the left side and repeat. Shuffle back and forth touching the backboard on each side of the rim before shuffling back.
Coaching Points
Focus on form, exploding upwards and correct landing
View Count: 4746
Top Basketball Drills
Browse our fun youth basketball drills for kids to get ideas for your next basketball practice.
Browse Basketball Drills
Basketball Drills by Age
Basketball Printable Resources