Dribbling with Both Hands
This individual basketball dribbling drill will help you improve hand speed, ball control, and your ability to dribble with both hands.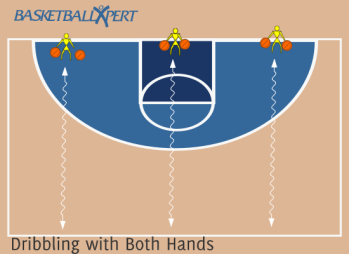 Setup
With this basketball drill you will need two basketballs.
Instructions
Start at the baseline with two basketballs, one for each hand.
Start down the court to the other end dribbling a ball with each hand.
It is all right to look down at the basketballs while doing this drill, but after a while try keeping your head up, so you will really improve.
Do sets down and back the entire length of the court.
Vary your speed as your skill improves.
Variations
Switch hands after a few dribbles to practice different ball movements.
Coaching Points
Focus on good control of the balls with each hand.
Try to make your off hand dribble jsut as good as your strong hand.
View Count: 6083
Basketball Drills
Browse our fun and free youth basketball drills for kids to get ideas for your next basketball practice.
Browse Basketball Drills
Basketball Drills by Age
Basketball Printable Resources