Little Around the World
The Little Around the World shooting drill is a fun and useful basketball drill to improve a players shooting skills. The drill will work on shooting the basketball from all different angles.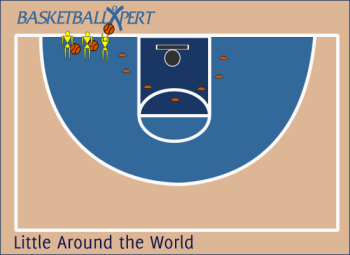 Setup
Nothing more than a basketball and some spots marked on the court.

This is a great basketball drill for a player to do on their own or with smaller numbers.
Instructions
In Little Around the World the shooting spots are around the lane.

Shorter range with everything 15 feet or closer.

This is great for younger basketball players or post players.

Pick a starting point and the goal is to make a shot from each of the shooting spots as quickly as possible.

Rebound your own ball or have a friend rebound.
Variations
There are many many variations.
Make it a contest by timing.

How fast does it take to make a shot from each spot.

Or see who can make a shot from each spot in the lowest number of attempts.

You can assign a point value for each shot and then give the players 1 minute to score as

many

points as possible.
Coaching Points
Stress speed but the main point should be upon good

basketball shooting form

.

Squaring up.

Getting your feet set.

Proper follow through without falling away or to the side.

Challenges the player to get to a spot on the floor and get their shot off quickly with good form and accuracy.
View Count: 8973
Basketball Drills
Browse our fun and free youth basketball drills for kids to get ideas for your next basketball practice.
Browse Basketball Drills
Basketball Drills by Age
Basketball Printable Resources