Basketball Fastbreak Shooting Drill
This basketball fastbreak shooting drill will focus on shooting while on a fast-break as well as ball handling skills while on the dribble.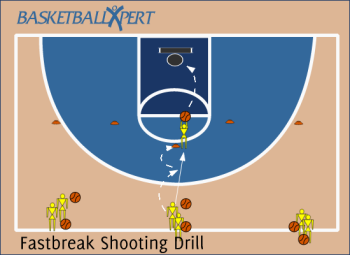 Setup
Set 4-5 cones out, or use the markings on the floor, from which you will shoot.
Start at half court with a ball.
Instructions
Throw the ball with backspin towards the spot high enough where you can reach the ball in one bounce.
Sprint to the ball, step into a jump shot and shoot. If you miss, get your rebound and score a lay up.
When dribbling back to the starting point at half court, do a move or spin at the 3-point line to focus on ball handling skills.
Rotate to each cone until you have performed 4-5 shots from each cone.
Variations
If you are working with a partner, have the partner throw you the ball as you are sprinting to the spot to simulate a true break-away. Again, if you miss, get your rebound and score a lay up. On your way back to half-court, have your partner meet you at the 3-point line and stand so you can do a move or spin around them. At this point, they should not defend you, only act as a decoy.
Coaching Points
Focus on:
Good hands receiving the break-away pass.
Stepping into the jump shot and good shooting technique.
Quickly retreiving the rebound and finishing with a lay-up.
Good Close control on the dribble with the ability to perform and sell a good move.
View Count: 7584
Basketball Drills
Browse our fun and free youth basketball drills for kids to get ideas for your next basketball practice.
Browse Basketball Drills
Basketball Drills by Age
Basketball Printable Resources