Two Bounce 21 - Basketball Shooting Game
The Two Bounce 21 Game is a fun and challenging basketball game that will improve a players shooting and free throws. The key to improving a player's basketball shooting abilities is repetition and the Two Bounce 21 Game offers repetition in a fun and competitive environment.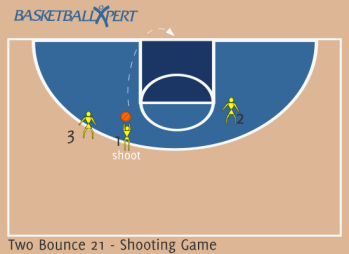 Setup
Two or three players and a ball on a basketball court.
Set the order of the three players according to the number of players participating in this drill.
Instructions
One player will begin the game with a 3 point shot.
If the shot is made the player earns 3 points and goes to the free throw line.
The player can earn 3 more points from free throws.
On ANY missed shot (even a free throw) the next player up allows the ball to bounce twice and then must shoot from that spot.
If it is made then that player goes to the free throw line.
If the shot is missed the next player allows two bounces and shoots from that spot.
The first player to 21 wins the game.
Variations
For younger players begin with a free throw instead of a 3 point shot.
Coaching Points
Focus on good shooting form and follow through.
Stay in ballance and have a steady release.
Dont rush your shot.
View Count: 13251
Basketball Drills
Browse our fun and free youth basketball drills for kids to get ideas for your next basketball practice.
Browse Basketball Drills
Basketball Drills by Age
Basketball Printable Resources