Basketball Passing Drill - Pepper
This basketball passing drill is wonderful for developing all aspects of passing the basketball. Hand-eye coordination, soft hands, accuracy as well as footwork. Pepper should be used as a warmup drill or used as a core drill in a basketball practice focused on passing.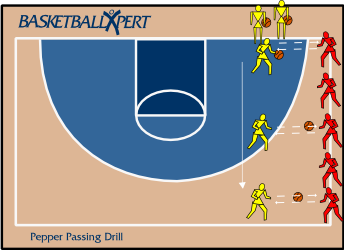 Setup
You will need a group of players and a few basketballs.
Instructions
Place a line of players along the sideline each with a basketball. Have the remaining basketball players form a line along the baseline. The front player from the baseline group makes their way down in front of the sideline players. As he reaches each sideline player they make a pass and receive the ball back.
Variations
Use different types of passes. Bounce pass, chest pass, overhead pass etc. Speed up the frequency of players heading down the line.
Coaching Points
Focus on proper basketball passing technique. Good form and accuracy on each and every pass. Make sure they execute properly every single time.
View Count: 9914
Basketball Drills
Browse our fun and free youth basketball drills for kids to get ideas for your next basketball practice.
Browse Basketball Drills
Basketball Drills by Age
Basketball Printable Resources