Layup competition
This team layup competition will focus on full-speed layups, and staying calm during break aways.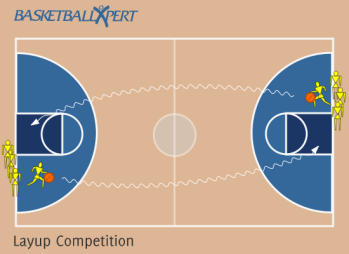 Setup
Split the teams into two lines under each of the side baskets.

The first person in each line will need a ball.
Instructions
This is a group effort layup drill that relies on every player to go full speed and make their layups.
On the coaches command, the first players in each line will dribble full speed to the basket on the other side of the court and do a layup.
After the layup attempt, the next player under the basket recovers the rebound and dribbles full speed to the other basket and does a layup.
The first time through, count every basket on both goals that is made in 1 minute.
Add 3-5 baskets they must make to their previous count. THey must meet or exceed this new number within 1 minute.
If they fail to reach their target basket count, the eithre team runs 2 laps around the gym.
Variations
Coaching Points
Dribble full speed
Good layup technique
Stay calm and composed, but full speed
Have fun!
View Count: 22487
Basketball Drills
Browse our fun and free youth basketball drills for kids to get ideas for your next basketball practice.
Browse Basketball Drills
Basketball Drills by Age
Basketball Printable Resources