Knockout! Basketball Shooting Game
The Knockout basketball shooting game works on hitting pressure shots and forces your players to quickly get the ball in the basket. Knockout is competitive, fast and can be used to work on jump shots from anywhere on the court.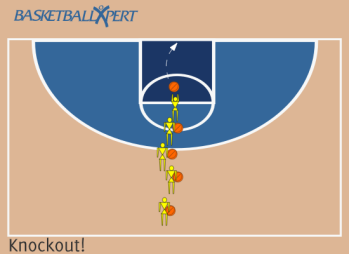 Setup
A group of players and everyone with a ball.
Knockout is a wonderful basketball shooting competition your players will love.
Instructions
Begin from a set point on the floor.
The most common is to start from the free throw line.
Organize the players into a line.
The object is to hit your free throw.
If the shooter misses they have to sprint after the rebound and score as fast as possible.
As soon as the initial player releases his free throw, the next player in line is free to shoot their free throw.
A player is eliminated if the shooter behind them scores before they do.
Variations
Knockout can be started from anywhere.
For younger players start closer to the basket.
Older players can start with 3 pointers or shots from the corner.
You can move to the side and make a rule that the initial shot must be a bank shot.
Coaching Points
Focus on good shooting form under pressure. Players get in a rush in knockout and show many flaws in their shot. Make sure the player faces up to the basketball, uses their legs on the shot and follows through properly.
View Count: 5755
Basketball Drills
Browse our fun and free youth basketball drills for kids to get ideas for your next basketball practice.
Browse Basketball Drills
Basketball Drills by Age
Basketball Printable Resources