Working on Defensive Channelling
The object of this drill is to allow the defensive player to learn techniques to force a ball handler to go where the defender wants them to. By proper body position and footwork the defensive player can funnel or channel the ball handler certain directions. In a game it will allow the defender to force the offensive towards defensive help or towards bad areas of the court.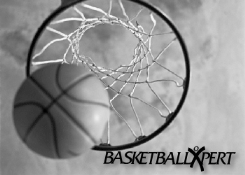 Setup
Use the full court. Both wide areas. Ball handlers move up the right side of the court on each side.
Instructions
One ball handler and one defender per repetition. Send one group at a time down the right side of the court.
Variations
Keep it simple early on. As the drill progresses allow tougher defense. Make it live where the dribbler can go to the basket after reaching halfcourt. This is also a good ballhandling drill to work on taking care of the ball, avoiding turnovers and breaking full court pressure.
Coaching Points
Focus on good defensive footwork and body positioning. Try to have the defensive player overplay and turn the ballhandler making them change directions often. Make sure the offensive player takes care of the ball. At first make the defensive passive where they cannot steal the ball. As the drill progresses turn up the intensity. Allow steals and look for fouls.
View Count: 4708
Top Basketball Drills
Browse our fun youth basketball drills for kids to get ideas for your next basketball practice.
Browse Basketball Drills
Basketball Drills by Age
Basketball Printable Resources