Dribbling With Chairs
This drill is for younger basketball players learning the basics of dribbling. The object is to focus on keeping the ball in the hand away from the defender as well as dribbling with both hands. It will also emphasis keeping your head up and seeing the court.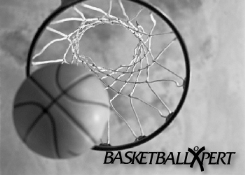 Setup
Gather 6-8 chairs and set them in a straight line down the court.
Instructions
First place the 6-8 chairs in a stright line down the court. Instruct the player to approach each chair on the dribble and go past the chair as if the chair were a defender. Make sure the player has the ball in their outside hand away from the defender. After passing a chair, have the player read the court and find the next chair.
Variations
Place the chairs in a zig-zag formation. Emphasize speed.
Coaching Points
The ball should be kept in the hand away from the chair/defender. Emphasize court vision as well.
View Count: 3734
Top Basketball Drills
Browse our fun youth basketball drills for kids to get ideas for your next basketball practice.
Browse Basketball Drills
Basketball Drills by Age
Basketball Printable Resources