Shooting from the Elbow
The key to becoming a good shooter is to practice, practice, practice. The great shooters in the NBA will tell you they spent hours in the gym shooting jumpshot after jumpshot. Here is a simple shooting drill that can be done with a team or with just you and a friend in the gym. The objective is to allow for a good repetition of shots from anywhere on the court.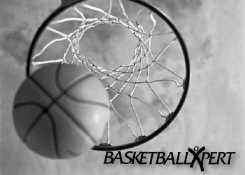 Setup
All you need is a ball, basket and at least 2 people. If it is a smaller number then multiple balls would allow for a better flow and allow greater repetitions.
Instructions
Everyone with a ball if it is a team exercise. Choose an area of the court where you want to work on shooting from. Have all players in a line each with a ball. Have them pass to a target man. After the pass have the player run to the shooting spot and receive the ball back from the target man and shoot. Rebound and repeat. There are many things you can do such as catch and shoot, fake the shot and create new space with a dribble before shooting. Fake the shot and drive to the basket. Catch, jab step and then shoot the jumper.
Variations
There are tons of variations to this simepl drill. Be creative. Add defense. Make them pump fake before shooting. Make them jab step and then go up for the shot. Fake and go to the basket for a layup. Fake and create space with a dribble to the side before shooting.
Coaching Points
Focus on good shooting form. Focus on having proper balance and body position when shooting. Focus on good footwork.
View Count: 3321