The Basketball Star Shooter
The Basketball Star Shooter will work on improving passing, shooting as well as communication between players.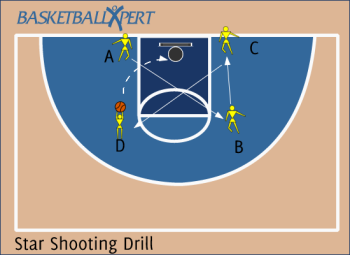 Setup
You will need at least 5 players and a ball for this drill.

Four lines (A,B,C,D) with the ball starting in line A.
Instructions
Four lines with 1 basketball.

A passes to B and follows their pass joining that line.

B receives the ball and passes to C following their pass.

C receives the ball and passes to D who is the shooter.

D receives the ball and then drives for a layup.

As soon as the layup is shot the next player in line A starts a new progression.
Variations
There are many variations to this drill.
First alter the shots of the finisher (line D).

Do some progressions with a layup.

Next, do some progressions with a catch and shoot jumper.

Then do some progressions where they catch and dribble for a free throw line jumper.

Other variations are to change the pass.

Make it a bounce pass every time.
Coaching Points
Focus on good passing and clean handling with receiving of the ball.

Have the players communicate during the drill.

The receiver needs to call for the pass.

Focus on good shooting form with the finisher.
View Count: 7799
Basketball Drills
Browse our fun and free youth basketball drills for kids to get ideas for your next basketball practice.
Browse Basketball Drills
Basketball Drills by Age
Basketball Printable Resources