Four Cone Agility Drill
Here is a wonderful basketball agility drill that will not only force a player to be quick in a short area, but will also force the player to problem solve and come to a quick solution.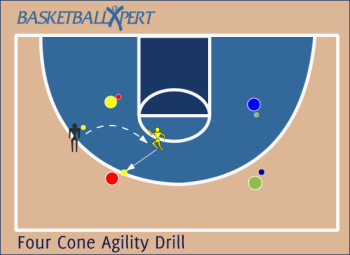 Setup
Four different colored cones (red, blue, green, and yellow) are arranged in a square about 5-10 yards apart.

A non-matching colored ball is placed on each cone (red ball with yellow cone, green ball with blue cone, etc.).

You can use painted wiffle balls,

racket

balls, or tennis balls for this drill.
Instructions
The player is placed in the middle of the square with eyes closed

Partner says "Go" and tosses the player a 5th ball (any color that matches a ball in play)

Player catches the colored ball, and sprints to the same color cone

Player then takes the colored ball from that cone and sprints to the same color cone, etc.

Continue until all of the colored balls match the colored cones
Variations
Coaching Points
Players should stay low and in an athletic stance and use short choppy steps to close out to the cone.

To make competitive see who can match up the correct balls and cones the quickest.
View Count: 9989
Basketball Drills
Browse our fun and free youth basketball drills for kids to get ideas for your next basketball practice.
Browse Basketball Drills
Basketball Drills by Age
Basketball Printable Resources